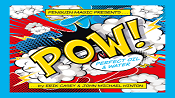 THE PERFECT OIL AND WATER TRICK!!
One by one, you cause the red and black cards to MIX and SEPARATE, just like oil and water!
Be sure to checkout
POW (Perfect Oil & Water) by Erik Casey
!
Click here for more info!
Your One Stop Shop for Magicians, Jokesters, and Mentalists!
New Products For September
Featured Products