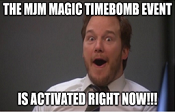 TIME BOMB DISCOUNT: Spend $45.00 or more and use discount code TIMEBOMB to get extra 6% off your order TODAY!
Discount ticks down to 4% and minimum $55.00 in 17 hours 08 minutes!

1 HOUR SALE!
VARIATIONS by Boris Wild - Book

Was $34.00
Now: $17.00
Reward Points
No points earned yet on current order.
Log in to see how many reward points you have already earned
Manufacturer Info
Important Links
3DM by Mike Hankins video DOWNLOAD

[dv3dm]
$9.95

WAIT...WHAT...Colorchangemania at it's best!
Date Added: 10/13/2014 by Chris Kenner