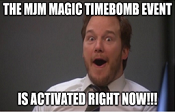 TIME BOMB DISCOUNT: Spend $45.00 or more and use discount code TIMEBOMB to get extra 6% off your order TODAY!
Discount ticks down to 4% and minimum $55.00 in 17 hours 58 minutes!

1 HOUR SALE!
The Complete Walton (Vol. 3) by Roy Walton - Book

Was $75.00
Now: $37.50
Reward Points
No points earned yet on current order.
Log in to see how many reward points you have already earned
Manufacturer Info
Important Links
Ball Holder from Uday

[UDBALLHOL_met]
$3.00
Sale: $2.85

I prefer this model ball holder because it has the extra space above the held article that allows me to put my finger in that space to steal the load into a classic palm.
Date Added: 08/13/2011 by Michael Smilek