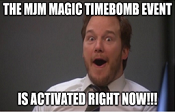 TIME BOMB DISCOUNT: Spend $45.00 or more and use discount code TIMEBOMB to get extra 6% off your order TODAY!
Discount ticks down to 4% and minimum $55.00 in 18 hours 25 minutes!

1 HOUR SALE!
The Complete Walton (Vol. 3) by Roy Walton - Book

Was $75.00
Now: $37.50
Reward Points
No points earned yet on current order.
Log in to see how many reward points you have already earned
Categories
Important Links
This is a quick and very instant method for a balance using cigarettes, and this can be done suddenly, the audience will never be suspicious because this is done very naturally, and very clean. And you have full control for you move left and right in a state of balance can be checked and the...
DOWNLOAD ITEM: Instant Access After Purchase!
(Availability Guaranteed)
Jaboox is a simple yet reasonable idea to have magic trick using card boxes. So, Jaboox has 2 visual effects, they are Switch Card and Color Change. Because once you have already seen the effect, you get to believe that this is done without GIMMICK. But with a sleight of hand. Download now!
DOWNLOAD ITEM: Instant Access After Purchase!
(Availability Guaranteed)