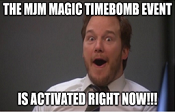 TIME BOMB DISCOUNT: Spend $45.00 or more and use discount code TIMEBOMB to get extra 6% off your order TODAY!
Discount ticks down to 4% and minimum $55.00 in 17 hours 51 minutes!

1 HOUR SALE!
The Complete Walton (Vol. 3) by Roy Walton - Book

Was $75.00
Now: $37.50
Reward Points
No points earned yet on current order.
Log in to see how many reward points you have already earned
Categories
Manufacturer Info
Important Links
Blade (Gimmicks and Online Instructions) by Nicholas Lawrence - Trick

[BLADENICHOLAS]
$30.00

I have found that no matter the prop or gimmick, it still comes down to presentation. Blade is an illusion effect that makes presentation easy. It's fun to work with and has many possibilities. Nicholas's instructions are fairly easy to follow. I love the adaptability based on the principle presented. Which means I can use almost any catds I want and I'm not just stuck with what's shipped to me. Thank you!
Date Added: 03/25/2019 by David