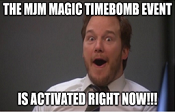 TIME BOMB DISCOUNT: Spend $45.00 or more and use discount code TIMEBOMB to get extra 6% off your order TODAY!
Discount ticks down to 4% and minimum $55.00 in 18 hours 33 minutes!

1 HOUR SALE!
Memento Mori Genesis Playing Cards

Was $11.95
Now: $5.98
Reward Points
No points earned yet on current order.
Log in to see how many reward points you have already earned
Manufacturer Info
Important Links
Club Sandwich by Andrew Normansell and JB Magic - DVD

[DVDCLUBSANDWICH]
$20.00
Sale: $19.00

I'm not really sure how this rates as far as stars go, but my only observation is that the color of the pip on the gaff card is darker, more of a scarlet, than the lighter red pips on the standard Bicycle deck, which of course, makes the gaff stand out from the rest of the deck. Do I need another type of deck? Otherwise, the trick works fine for me.
Date Added: 08/06/2010 by Stephen Braddy