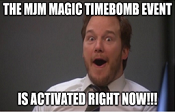 TIME BOMB DISCOUNT: Spend $45.00 or more and use discount code TIMEBOMB to get extra 6% off your order TODAY!
Discount ticks down to 4% and minimum $55.00 in 19 hours 02 minutes!

1 HOUR SALE!
Memento Mori Genesis Playing Cards

Was $11.95
Now: $5.98
Reward Points
No points earned yet on current order.
Log in to see how many reward points you have already earned
Categories
Manufacturer Info
Important Links
Flash Appearance - USA

[MAK-P1681-DS]
$240.00

The prop is good, but very heavy. Its weight is 6 kg (15 pounds).
Date Added: 12/05/2013 by Damir