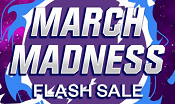 GOING ON NOW:
Right now, save 50% OFF over 900+ bestselling items!!
CLICK HERE TO SEE THEM! LIMITED QUANTITY REMAINING!
(Sale Ends in 10 days 14 hours 27 minutes!)
1 HOUR SALE!
Genii Magazine - August 2010 - An Ha Lim

Was $6.00
Now: $3.00
Reward Points
No points earned yet on current order.
Log in to see how many reward points you have already earned
Categories
Manufacturer Info
Important Links
Flash Pad by Fantastic Flash

[HAZ_FLASHPAD]
$5.00
Sale: $4.75

Hi MJM.....I love these but unfortunately can't seem to order more than one at a time from the website. I would take six now if you have them in stock.
Date Added: 11/18/2013 by Don Stevenson