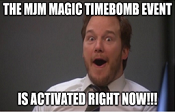 TIME BOMB DISCOUNT: Spend $45.00 or more and use discount code TIMEBOMB to get extra 6% off your order TODAY!
Discount ticks down to 4% and minimum $55.00 in 17 hours 02 minutes!

1 HOUR SALE!
VARIATIONS by Boris Wild - Book

Was $34.00
Now: $17.00
Reward Points
No points earned yet on current order.
Log in to see how many reward points you have already earned
Categories
Manufacturer Info
Important Links
Just Imagine by Jay Sankey - DVD

[JUSTIMAGINE]
$19.95
Sale: $18.95

There is just something so special about a terrific mentalism effect. Those little moments that make the spectators believe you have true psychic powers. Usually, with most of even the best mentalism effects though, there is only 1 surprise. A single prediction impossibly derived. With Just Imagine there are THREE explosively powerful predictions that all come together for a one of a kind psychic experience delivered in Jay's usual clever style. There is a handling of this effect where the cards CAN be examined and if you watch the extra handling portion of the dvd, you'll see how you can combine elements of two of Jay's handlings to make it so that the deck can be examined. I don't want to give anything away as to how it can be done, but trust me when I tell you, it can be done, making the all around absolute perfect mentalism mind blower. I have FRIED even the most skeptical people with it, and it is SO easy to do.
Date Added: 02/24/2011 by David Rossi