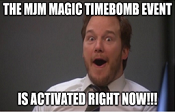 TIME BOMB DISCOUNT: Spend $45.00 or more and use discount code TIMEBOMB to get extra 6% off your order TODAY!
Discount ticks down to 4% and minimum $55.00 in 18 hours 04 minutes!

1 HOUR SALE!
The Complete Walton (Vol. 3) by Roy Walton - Book

Was $75.00
Now: $37.50
Reward Points
No points earned yet on current order.
Log in to see how many reward points you have already earned
Categories
Important Links
Engraved is a one of a kind utility that allows you to engrave ANY prediction on ANY glass without the need of any tools or machinery. With Engraved , you will receive enough materials to make multiple glasses. Using the Engraved method, it is truly engraved into the glass, non removable and...
Ready To Ship: As soon as tomorrow!
(if ordered within the next 8 hours 4 minutes)
(Quantity Limited - 7 left!)
The Bend is the simplest key bend you will ever perform. James Kellogg Jr. has created a new key bend. The Bend is an effect that is completely under your control. This unique method requires no need to worry about temperature control required to "bend" the key. The magician shows a...
Ready To Ship: As soon as tomorrow!
(if ordered within the next 8 hours 4 minutes)
(HURRY! - Only 3 left!)