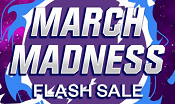 GOING ON NOW:
Right now, save 50% OFF over 900+ bestselling items!!
CLICK HERE TO SEE THEM! LIMITED QUANTITY REMAINING!
(Sale Ends in 10 days 15 hours 16 minutes!)
1 HOUR SALE!
Uri Geller Trilogy (Signed Box Set) by Uri Geller and Masters of Magic - DVD

Was $90.00
Now: $45.00
Reward Points
No points earned yet on current order.
Log in to see how many reward points you have already earned
Categories
Manufacturer Info
Important Links
Out Of The Blue (Gimmicks and Online Instructions) by James Anthony and MagicWorld - Trick

[OUTOF]
$29.95

I like the trick a lot. It is very easy to do and there are a couple of different tricks included. Besides the one shown in the demo there is an CAAN (card at any number) which is real easy to do to. I could also see using this as a way to force a card to use in conjunction with other tricks.
Date Added: 11/02/2018 by Brian T.