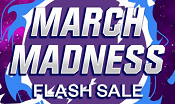 GOING ON NOW:
Right now, save 50% OFF over 900+ bestselling items!!
CLICK HERE TO SEE THEM! LIMITED QUANTITY REMAINING!
(Sale Ends in 10 days 15 hours 35 minutes!)
1 HOUR SALE!
Genii Magazine - September 2012 - FISM Fiasco, Woody's Wonderland

Was $6.00
Now: $3.00
Reward Points
No points earned yet on current order.
Log in to see how many reward points you have already earned
Categories
Important Links
Playing Cards
Your #1 source for custom and limited playing cards on the Internet!