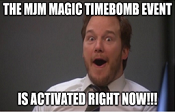 TIME BOMB DISCOUNT: Spend $45.00 or more and use discount code TIMEBOMB to get extra 6% off your order TODAY!
Discount ticks down to 4% and minimum $55.00 in 17 hours 39 minutes!

1 HOUR SALE!
The Complete Walton (Vol. 3) by Roy Walton - Book

Was $75.00
Now: $37.50
Reward Points
No points earned yet on current order.
Log in to see how many reward points you have already earned
Categories
Important Links
A playing card's effect that you can combine 2 card with different color and image to be one card with half of each other. Visually! Looks incredible! Easy to do. Very clean. Download the video today!
DOWNLOAD ITEM: Instant Access After Purchase!
(Availability Guaranteed)
Magician can separate the card in to 3 parts then make it levitation then after that the card back to normal again (no Black Art, no magnet) Instagramable magic. Download now!
DOWNLOAD ITEM: Instant Access After Purchase!
(Availability Guaranteed)