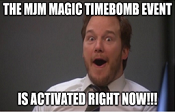 TIME BOMB DISCOUNT: Spend $45.00 or more and use discount code TIMEBOMB to get extra 6% off your order TODAY!
Discount ticks down to 4% and minimum $55.00 in 17 hours 56 minutes!

1 HOUR SALE!
The Complete Walton (Vol. 3) by Roy Walton - Book

Was $75.00
Now: $37.50
Reward Points
No points earned yet on current order.
Log in to see how many reward points you have already earned
Categories
Important Links
Escape is the latest creation from Rodrigo Goñi's creative mind. A mind-blowing effect in which a card selected and signed by a spectator escapes from the deck under impossible conditions. It is totally impromptu: it can be performed anywhere, anytime, with any deck. Come join the world of...
DOWNLOAD ITEM: Instant Access After Purchase!
(Availability Guaranteed)
" Flash " is a prediction. The back of a card in an envelope is shown. And it is visible for later. A card is chosen, lost in the deck and automatically disappears. Then, the envelope is grabbed again and a transformation is made to the spectator's card. Very simple to do. Explanatory video in...
DOWNLOAD ITEM: Instant Access After Purchase!
(Availability Guaranteed)