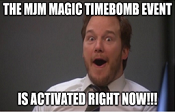 TIME BOMB DISCOUNT: Spend $45.00 or more and use discount code TIMEBOMB to get extra 6% off your order TODAY!
Discount ticks down to 4% and minimum $55.00 in 17 hours 41 minutes!

1 HOUR SALE!
The Complete Walton (Vol. 3) by Roy Walton - Book

Was $75.00
Now: $37.50
Reward Points
No points earned yet on current order.
Log in to see how many reward points you have already earned
Categories
Important Links
Sakura Playing Cards by Francis Garcia is a limited-edition deck printed by USPCC. Deck : Similar to the first edition of Sakura, the back design is specifically cherry blossom themed. It has an intricate design consisting of tree branch silhouettes that reach out from the edge of the cards, being...
Ready To Ship: As soon as tomorrow!
(if ordered within the next 7 hours 41 minutes)
Quantity Limited - 4 left!
If you love ANIME and JAPANESE CULTURE, you'll LOVE this deck! Sakura Playing Cards Volume 3 is a combination of our Spring and Winter Editions! This deck makes for a perfect present for any card enthusiast during this upcoming winter season! Sakura Playing Cards: Fully custom deck of cards Printed...
Ready To Ship: As soon as tomorrow!
(if ordered within the next 7 hours 41 minutes)
(Quantity Limited - 18 left!)