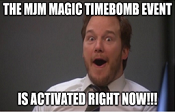 TIME BOMB DISCOUNT: Spend $45.00 or more and use discount code TIMEBOMB to get extra 6% off your order TODAY!
Discount ticks down to 4% and minimum $55.00 in 17 hours 51 minutes!

1 HOUR SALE!
The Complete Walton (Vol. 3) by Roy Walton - Book

Was $75.00
Now: $37.50
Reward Points
No points earned yet on current order.
Log in to see how many reward points you have already earned
Categories
Manufacturer Info
Important Links
Sucker Silk to Egg by Pop Haydn - DVD

[POPHAYDNSUCKER]
$25.00

Pop Haydn does an excellent job on this DVD, as he does on all his DVDs. The routine is excellent, well explained, and the effect is tremendous. Highly recommended.
Date Added: 07/23/2016 by Michael Smilek