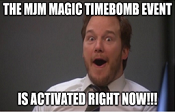 TIME BOMB DISCOUNT: Spend $45.00 or more and use discount code TIMEBOMB to get extra 6% off your order TODAY!
Discount ticks down to 4% and minimum $55.00 in 18 hours 51 minutes!

1 HOUR SALE!
Memento Mori Genesis Playing Cards

Was $11.95
Now: $5.98
Reward Points
No points earned yet on current order.
Log in to see how many reward points you have already earned
Categories
Manufacturer Info
Important Links
The Justice Pad by Charlie Justice

[MASON-JUSTICEPAD]
$45.00
Sale: $42.75

Charlie takes a plot and finds the cleanest handling. He did it with the cap in bottle and now he did it with impression pads. The Justice Pad is absolutely perfect. It will be the standout effect of your set.
Date Added: 03/25/2017 by Ryan Schlutz