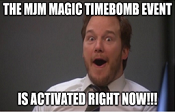 TIME BOMB DISCOUNT: Spend $45.00 or more and use discount code TIMEBOMB to get extra 6% off your order TODAY!
Discount ticks down to 4% and minimum $55.00 in 17 hours 57 minutes!

1 HOUR SALE!
The Complete Walton (Vol. 3) by Roy Walton - Book

Was $75.00
Now: $37.50
Reward Points
No points earned yet on current order.
Log in to see how many reward points you have already earned
Categories
Manufacturer Info
Important Links
Winners Dice (Gimmicks and Online Instruction) by Secret Factory

[WINNERSDICE]
$39.95

This is a "Fantastic" item, and completely 100% foolproof 360 degrees around you. It is a real winner for magicians that are just beginners. This one will make you look totally professional and a "Must Have" for your magic portfolio. I "Highly" recommend it to all magicians.
Date Added: 02/07/2019 by Glenn Giese